Kansas Profiles - Leaders of the Year
Leaders of the Year
Each year, Entrepreneurship and Ag Communications students select the most outstanding of those previously profiled as Leaders of the Year in several categories.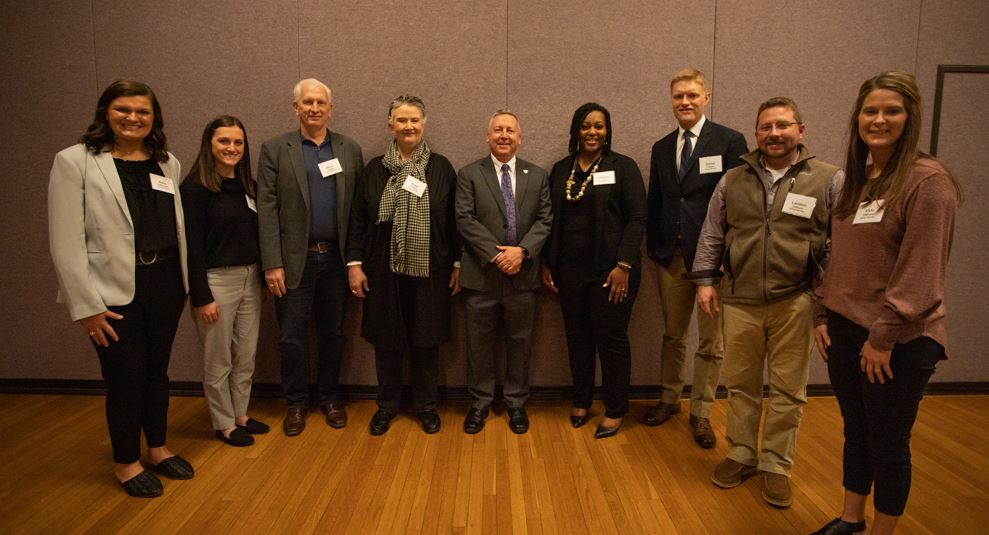 2022
Shown left to right: Entrepreneurship - Cassidy Cage and Halle Schindler, C&H Designs; Entrepreneurial Development - Steve Radley, NetWork Kansas; Creative Arts - Roxie Yonkey, Author of "100 Things to Do in Kansas Before You Die"; President Richard Linton; Entrepreneurial Development - Christina Long, NetWorked for Change; Technology - Daniel Friesen, IdeaTek; Agriculture - Landon and Vicki Oldham, Heartland Soil Services. Not pictured: Community Service - Danny Scott, Caney Community Betterment Group Foundation/PRIDE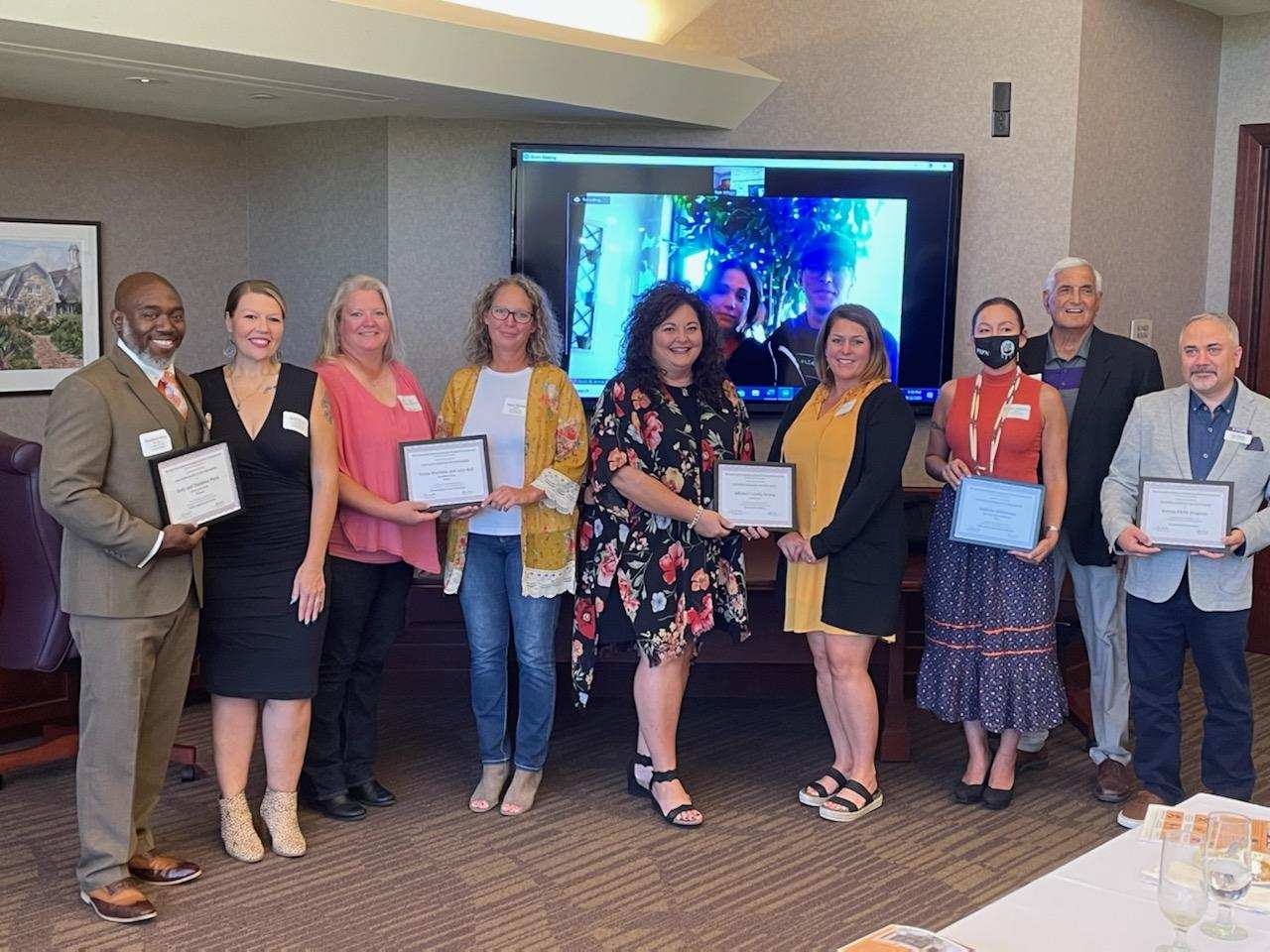 2021
Community Service - Heather Hartman, Mitchell County Strong
Entrepreneurship - Scott Andersen, Kansas Earth and Sky Candle Company
Value-Added Crop Production - Tonya Martisko and Julie Ball, Gaeddert Farms
Value-Added Food Marketing - Rick McNary, Shop Kansas Farms
Value-Added Snack Foods - Thaddeus and Kelly Perry, Perry's Pork Rinds
Value-Added Specialty Products - Melinda Williamson, Morning Light Kombucha
Community Betterment - Kansas PRIDE Program
2020
Business Development - Todd Steinbach, Aero-Mod
Community Service - Martha Hadsall, Patterson Health Center
Entrepreneurship - Darin Miller, Iron Clad Coworking
Food and Agribusiness - Adam and Maggie Pounds, Simple Abundance Farm
Tourism - Jan Leonard, Stevens County Economic Development
2019
Agriculture - Dennis Wright, Wright Farms Sunflower Oil
Community Service - Corning Community
Entrepreneurship - Cody Foster, Advisors Excel
Food and Retail - Joe and Cathy Broeckelman, The Satisfiers
Technology - Anjan Ghosh Hajra, Immersion 3D Plus
Tourism - Casey Cagle, Prairie Earth Tours
2018
Agriculture - Kathy and Eric Youngquist, Farmers Markets of Kaw Valley
Business Development - Russell Disberger, Aspen Business Group
Community Service - Joy and Brian Miller, New Horizon Ranch
Entrepreneurship - Earl Roemer and Rachel Klataske, Nu Life Market
Retail Development - Tyson and Emily Mullen, Grant County Drug and Next Door
Tourism - Marci Penner and WenDee Rowe, Kansas Guidebook 2
2017
Agribusiness - Alan VanNahmen, Farm Buddy
Community Service - Tracy Teeter, The Main ARTery
Diversity and Service - Cameron Bradshaw, Minorities in Agriculture, Natural Resources & Related Fields
Diversity and Service - Kim Thomas, Stockton Mayor and President, League of Kansas Municipalities
Entrepreneurship and Business Development - Jill Mason, Confetti & Cashmere Party Boutique
Rural Grocery and Retail Foods - Terry Olson, Eastside/Westside Markets
Rural Manufacturing - Mike Kilkenny, Taylor Forge
Tourism - Dan and Brenda Pace and Amanda Kaufman, Collingwood Barn
2016
Agribusiness - Dave Schultz, Seed Research Equipment Solutions
Business Development - Ralph Lagergren and Ethan Eck, Entrepreneurial Development
Community Service - Matt Deighton, Molly and the Tornado
Entrepreneurship - Chad May, Meltpoint Environmental
Technology - Ken Woods and Pat and John Farley, Kansas Regenerative Medicine Center
Tourism - Martin and Cheryl Rude, Treehouse at the Barns @ Timber Creek B&B
Value Added Agriculture - Shane Tiffany, Tiffany Cattle Company
2015
Agribusiness - Matt Wolters, Surefire Ag
Business & Entrepreneurship - Ward Morgan, CivicPlus
Community Service - Dennis Vanderpool, Associated Youth Services
Tourism, Hospitality & Retail - Sherrie Conklin, Forgotten Item Market
Multicultural Diversity - 4-H Reaching New Families, SW Kansas, KSRE 4-H
2014
Agribusiness - Greg, Nathan, and Kendal Peterson, the Peterson Brothers
Business & Entrepreneurship - Jerry and Debbie Brown, RevHoney
Leadership - Brenda Chance, League of Kansas Municipalities
Local Retail - Matt and Bronwyn Douglas, Kistner's Flowers
Tourism - Carlos Navarro, Santa Maria Ranch
2013
Agriculture - Tom McCarty, McCarty Family Dairy
Business & Entrepreneurship - Cody Heitschmidt, Digital Communications Consultant
Community Service - Bill Broadie, All American Beef Battalion
Retail & Tourism - Kim Coslett, Kaleo Cafe
Leadership - Judge Tommy Webb
2012
Agriculture - Doyle Pearl, JB Pearl
Entrepreneurial Development - Chris Sramek, Hometown Prosperity
Community Service - Diane Stiles, Northwest Tech
Entrepreneurship - Dave Dreiling, GTM Sportswear
Tourism - Jeff Oakes. Flint Oak
2011
Agribusiness - John Brewer, Wyldewood Cellars
Business Development - Scott Bergkamp, Bergkamp, Inc.
Community Leadership - Bruce McMillan/Sharon Brown, Tri-County Congress/Flint Hills Regional Council
Community Service - Perry Schuckman, Non-Profit Chamber of Service, south central Kansas
Entrepreneurship - Dan Ledeboer, Quest Center
History & Tourism - Doug Thompson, Auto Racing Museum
Retail & Food Service - Betts Abraham, Coffee Loft
2010
Agribusiness - George and Rita Arnold, Arnold's Greenhouse
Entrepreneurship - Amy Lund, The Swimming Hole
Community Leadership - Marci Penner, WeKan! Bank
History & Tourism - Chris Day and Janet Armstead, Santa Fe Trail Educational Trip
Technology - Wayne Alexander, Electric Blue Auto Conversions
2009
Tourism Development - Alan and Kim Nelson, Nelson's Landing
Community Leadership - Gene and Jan West, Greensburg
Agribusiness Development - Homer Krehbiel, Krehbiel's Specialty Meats
Entrepreneurship - Larry Grimsley, GS Inc.
Business Development - Don Landoll, Landoll Corporation
2008
Tourism Development - Emily Hunter, Symphony in the Flint Hills
Craftsmanship & Entrepreneurship - Kevin and Lori Kaster, Kaster Masonry
Leadership Development - Glenn Brunkow, PALS
Business Development - Ed McKechnie, Watco Companies
Food & Agriculture - Matt Jonas, Balls Food Stores
2007
Agribusiness - Frank Reese, Good Shephard Turkey Ranch
Business Development - Leland and Robert Orr, Brooke Corp.
Entrepreneurship - Carl and Vivian Redden, TRG
Tourism Development - Marci Penner, The Kansas Guidebook
Community Leadership - Kathy Swezey, SEK Leadership Academy
2006
Business Leadership - Steve Pickman, MGP Ingredients
Entrepreneurship - Tabetha and Noel Ketzner, Bird City Brid Seed
Tourism Development - Jean Mettlen, Amazing 100 Miles
Community Spirit - PRIDE Roosters, Burns
2005
Tourism Development - Cheyenne Bottoms
Community Leadership - Western Kansas Rural Economic Development Alliance
Value Added Business - Kay Emrich, Emrich Family Creamery
Business & Entrepreneurship - Sally and Jay Brandon, Shepherds Mill
2004
Deb & Bill Brown, Red Rock Guest Ranch
Jack Lindquist, KARL
Roger and Sue Pine, Pine Family Farms
Chuck Comeau, Dessin Fournir
Misty Schultz, Curio's Inc.
2003
Galen and Karen Huffman, Formation Plastics
Mark and Krista Ball, USA Gymnastics
Lee and Kathy Borck, Ward Feedyard
Dan and Carla Kuhn, Depot Market
Bill Kurtis, Red Buffalo Ranch/Gift Shop
2002
Bud and Marti Newell, Serenata Farms
Bob Rosander, Nanoscale Materials
Glen Keller, Trio Enterprises
Thomas and Cheryl Etheredge, Prairie Rose Chuckwagon Suppers
2001
John Hotaling, Southeast Kansas Inc.
Randy Rundel, Fifth Avenue Antique Auto
21st Century Alliance, Ag Fibers
David Govert, Machinery Link
Tom Pivonka, BOC Gases
Greg Smith, Pratt Telecommunity Center
2000
J.B. Voss, Leadership Wilson County
Florence Metcalf, Southwest Kansas Rural Leader
Mike Wernette, AmerSeal
John Cyr, North Central Community Network
1999
Mila Bandel, Leadership Cheyenne County
Larry Sevier, Rural Telephone
John and Susan Howell, Website Development for Kansas Communities
1998
Glenn Newdigger and Connie Hoch, Leadership Barber County
Mark Smith, Smith Cattle Company
Loren Medley, KEPCO
Calvin Meyer, Free State Entrepreneurial Association
1997
Vickie Stonecipher, Tomorrows Leaders for the Community
Biddy Hurlbut, Peruvian Connection
1993
Frank Meyer, Custom Metal Fabricators, Inc.
Gary Anderson, Gateway to the Future, Window on the World
Marvin Malcom, Pi Bear
John Stutz, Kansas League of Municipalities
Tom Ryan,The Barn
Allan Lindfors, Marquette Revitalization
Merle Meyer, Belleville Telescope and Pan American Highway Association